timesofindia.indiatimes.com


KOLKATA: At least 22 people, all staying within a two-kilometre stretch in Jadavpur, lost more than Rs 5 lakh in less than 28 hours over Sunday and Monday as fraudsters used multiple ATMs to empty bank accounts of money within hours of salaries and pensions being deposited at the start of the month.
Cops identified at least two ATMs on the Sukanta Setu-Sulekha stretch in Jadavpur and skimming machines as the possible tools used for the fraud and said the method was eerily reminiscent of another "Black Sunday" — August 29, 2018 — when more than 50 people lost over Rs 20 lakh.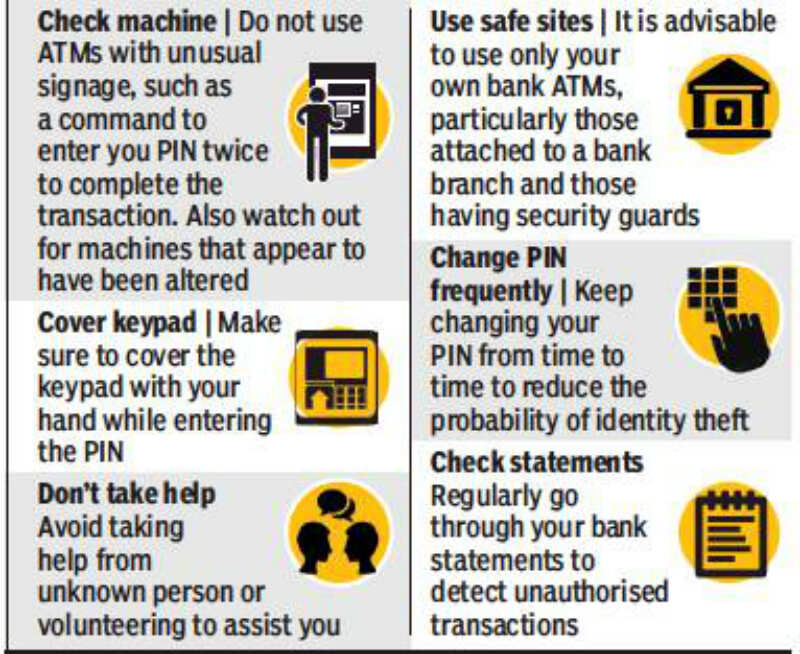 Cops pegged this Sunday's loss at Rs 5.5 lakh but also added that more cases could come to light and the lost amount was likely to rise. The first of the recorded cases occurred around 7am on Sunday and the last to be registered till now occurred around 10.45am on Monday. All the money lost were withdrawn from two ATMs located in south Delhi's Hauz Khas, almost a carbon copy of what a Romanian gang did to 50-plus south Kolkata residents last year.
News of the fraud started breaking on Sunday afternoon as duped customers — IT executives, sales professionals, teachers and retired government officials — from Jadavpur's Anandapalli to Regent Estate to Bagha Jatin descended on Jadavpur police station, demanding payback from banks and redress from cops. Most losses ranged from Rs 10,000 to Rs 45,000, with some claiming to have lost even Rs 70,000.
Victims were taken completely unawares for two reasons: none had made any purchase using their cards recently; nor had they shared OTP details with anyone, they claimed.
"I had gone to a PNB ATM at noon on Sunday to withdraw Rs 10,000 but a message told me I was exceeding my withdrawal limit for the day. I didn't read too much into it and withdrew Rs 3,000 and left. On Monday morning, I saw Rs 20,000 was withdrawn from my account in blocks of Rs 10,000 each. I checked the messages and saw Rs 25,000 was withdrawn on Sunday and Rs 20,000 on Monday. They withdrew my pension money the first day of the month," retired government officer Samir Dutta said.
Romanians who fled to Nepal may be involved
Kolkata Police commissioner Anuj Sharma directed officials to launch a check on ATMs immediately but no skimming machine could be detected in the Jadavpur-Patuli-Lake zone. The detective department and Jadavpur cops have formed a team of officers, with prior experience in such cases that have led to convictions, to probe the fraud.
All the money was withdrawn from two ATMs in Hauz Khas but both returned "grainy CCTV footage" .
Punjab National Bank officials found a skimming device at a Jadavpur branch this April and reported the matter to cops. Around 80% of the victims this time are PNB customers. There was a report of another skimming device fitted at a Kasba ATM though, after that, most ATMs installed anti-skimming devices," an officer said.
It is possible that members of the old Romanian gang, who have escaped to Nepal, may be involved. Officials said they had also started questioning the Romanian convicts and under-trials now in prison.
Another Turkish-Bangladeshi, too, operated in Belgharia for six months before being nabbed. Besides, there are gangs from Jharkhand and Maharashtra who use the dark web to sell data to foreign gangs. "All angles are being probed," a senior IPS officer said.
Bank officials admitted that the case was not unprecedented but its audacity and scale were, given the multiple corrective steps. But both bank and police officials agreed that the probable method used was skimming. "Fraudsters copy your card data from its magnetic strip, using a small device called a skimmer, use that data to clone your card and then withdraw money from your account from another ATM," a bank official said.
"Preliminary investigation shows that the skimming machines were installed and removed some time ago. The accused waited for some time. We are talking to victims to ascertain what the common ATMs they may have used," joint commissioner of police (crime) Murlidhar Sharma said. A team is likely to leave for Delhi shortly.
"We have taken the issue very seriously and are cooperating with the police probe," a senior PNB official said after a meeting with cops. "We will try to redress our customers' grievances as soon as possible," he added. Reserve Bank of India guidelines mandate that customers should get back their money in such cases.
Latest Govt Job & Exam Updates: