timesofindia.indiatimes.com


KOLKATA: The death of a kitchen staff at Calcutta Cricket & Football Club (CCFC) after a Deodar
tree
in
parking
lot crashed on him on Saturday morning has prompted green activists and members of several city clubs to demand a health audit of trees in public spaces so that corrective measures can be taken to prevent such tragedies.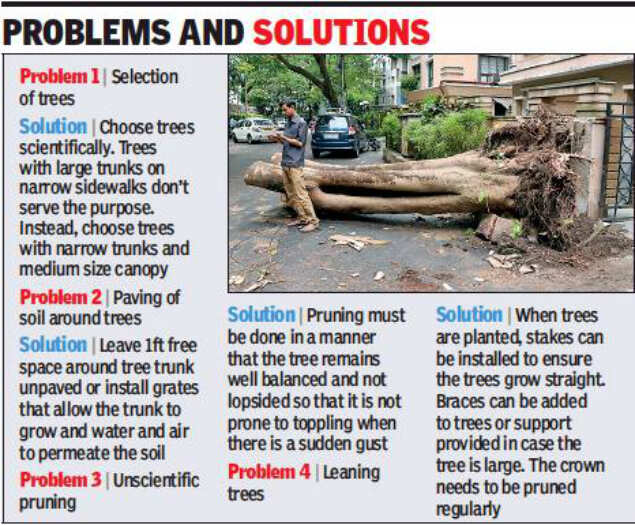 At CCFC on Syed Amir Ali Avenue, Deodar trees have been planted along the fence in the twin parking lots and the driveway connecting the two to act as green curtains. But the paving of the trees close to the trunk has left the trees vulnerable to gusts of wind.
At Saturday Club, a massive Deodar tree had toppled in the parking lot a few years ago, crushing three cars. Shankho Chowdhury, who is a member of CCFC, Saturday Club and Tolly Club, says he is wary about driving into parking lots during Nor'westers and monsoon due to the presence of large trees.
"One of the best things about the clubs is the presence of greenery. But some trees, particularly those at parking lots, are also a cause for concern. The trees need to be checked. If they have weakened, they can be nursed or reinforced with braces and wires. In some instances, a very vulnerable tree may have to be felled and young trees planted in its place," Chowdhury suggested.
The problem, according to Bonani Kakkar, who is a member of several city clubs and a passionate green activist, is the paving of the ground around the trees. "Paving around the trunk leaves little space for trees to get nourishment and stay healthy. Trees also need regular inspection to identify if there is a problem and solve it before the tree falls," said Kakkar.
CCFC president Dinyar Mucadum said the club would revisit areas of concern and take necessary action to make the premises safe. "We will do the needful for the safety of the trees, members and staff," he said. At Tolly Club, CEO Anil Mukerji said the environment committee did do an audit and regular trimmings were carried out to avoid canopy overload. "But trees still topple, particularly in storms. We are lucky no one has got injured," he said.
Avenue trees are also a problem in Kolkata. Earlier this year, a medical representative died after a tree crashed on him while he was riding past a tree in Kidderpore. Last year, five people travelling in an autorickshaw were killed when a tree fell on them at Lenin Sarani. Two years ago, one person was killed when a tree fell on a car passing through Jessore Road.
At heritage Dalhousie Square, concrete grates were designed during the paving of footpaths with flagstones and concrete to ensure that trees continued to draw rain water around trunk. But the idea has not been replicated in other parts of the city where paver blocks have been used till the very edge of the trunk.
Latest Govt Job & Exam Updates: