timesofindia.indiatimes.com


KOLKATA: The city has witnessed a rise in cyber crimes — a trend reflected across all major IT hubs in the country like Mumbai, Bengaluru and Hyderabad. According to the NCRB data for 2017 released on Monday, Kolkata has registered 196 cyber crimes in 2017. The number was 111 and 168 in 2015 and 2016, respectively. Of all crimes committed in the city, 2.7% (excluding bank frauds) have been attributed to cyber crimes.
The numbers, though, are much higher in Bengaluru (2,743 cases) and Mumbai (1,362). Bengal has also seen a sharp rise in filing of
cyber crime
complaints — from 398 cases in 2015 to 568 in 2017. Out of Bengal's 568 cases, there were 103 computer related cases, two were ransomware attacks, 45 identity thefts and 20 cheatings by impersonation. Along with UP and four other states, Bengal has also registered a case of cyber terrorism.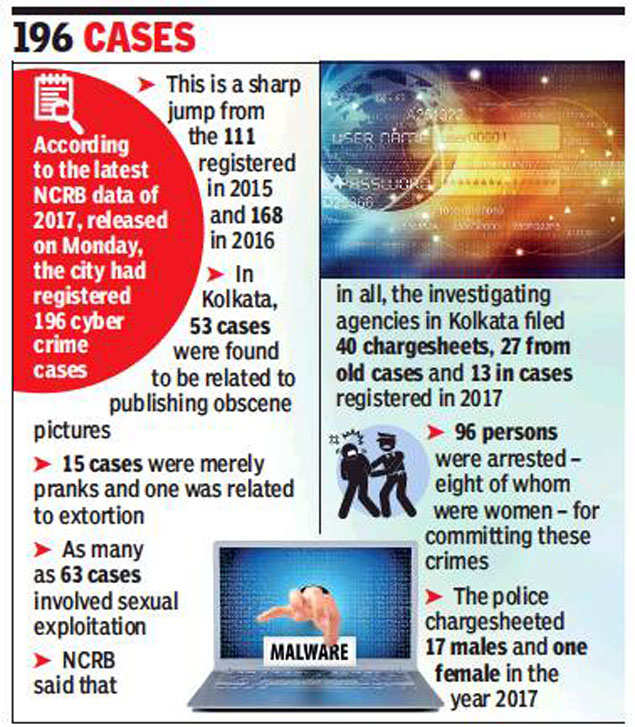 In Kolkata, 53 cases were found to be related to publishing obscene pictures (80 such cases in Bengal), 15 cases were merely pranks and one was related to extortion. As many as 63 cases involved one form of sexual exploitation (Mumbai had 204 cases registered against cyber sexual predators). The others involved a variety of other motives, mostly personal in nature.
However, even as Kolkata Police cyber cell remains one of the most trusted agencies with a high conviction record, NCRB records show several probes are still pending as far as cyber crimes are concerned. In 2017, investigations in 149 cases were pending taking the total number of cases to be probed at the end of the year to 345. Four cases had to be transferred to other agencies. In 39 cases, the complaints were found to be true but the probe had to be stopped due to insufficient evidence.
NCRB said the investigating agencies in Kolkata had filed 40 chargesheets, 27 from old cases and 13 from cases registered in 2017. In all, 96 persons were arrested — eight of whom were women — for committing these crimes. The police chargesheeted 17 males and one female in 2017. In contrast, Ahmedabad chargesheeted 172 of the 181 they had arrested and Hyderabad chargesheeted 167 persons.
Lalbazar, though, has reminded that not all cases go to cyber cell — several divisions now probe cases registered by them. "We ensure the probe is fool-proof. It needs a lot of patience to track down such cases," said an officer.
Latest Govt Job & Exam Updates: