timesofindia.indiatimes.com


KOLKATA: Keen to avoid the embarrassment it faced the past two years, when the National Green Tribunal held it responsible for failing to keep Chhat revellers off
Rabindra Sarobar
, Kolkata Metropolitan Development Authority (KMDA), custodian of the
Lake
, has earmarked two large
water bodies
in south Kolkata to perform
Chhath
rituals. Much ahead of the festival, which will be celebrated on November 2 and 3, the
KMDA
has involved all south Kolkata councillors and officers of various police stations so that they reach out to various stakeholders in time.
"The measures taken at the eleventh hour in 2017 and 2018 had proved inadequate. Thousands of devotees turned up at the Lake, making it virtually impossible to stop them from performing the rituals. Though police were present, devotees far outnumbered the force. Any attempt to stop them could have triggered a law-and-order problem. This year, we are starting early to reach out to the community with alternatives: two water bodies off EM
Bypass
, one in front of
Fortis
Hospital near
Ruby
and another at
Patuli
. As we don't have the means to contact the community on our own, we are seeking help of councillors and police to ensure the message percolates to localities in different wards," a KMDA official said. Despite sensitisation, if devotees still arrive at the Lake for Chhath, the KMDA will have buses to ferry them to the alternative venues.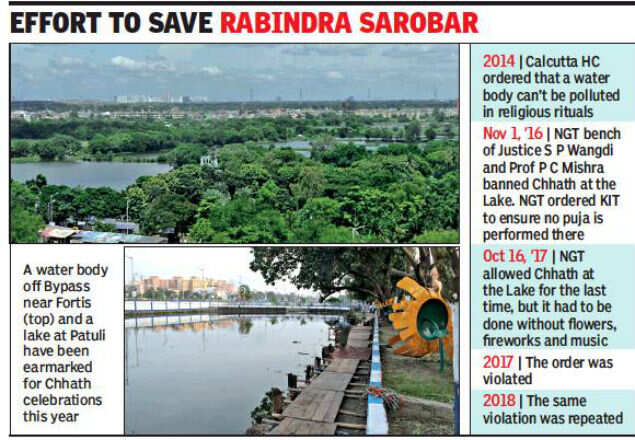 Last year, environment activists had filed a contempt plea at NGT, urging it to take action over the pollution caused to Rabindra Sarobar during Chhath, which the petitioners said, was organised in violation of an NGT order, passed in 2017, banning any religious and social activity at the Lake. The plea, filed by Sumita Bandyopadhyay and signed by 1,178 other morning-walkers at the Lake, contended that thousands had converged on the eco-sensitive zone on November 13 and 14, 2018, and performed puja in violation of an NGT order, banning any ritual there. They said the devotees threw flowers, fruit, sweet, oil and ghee in the 73-acre waterbody, burst crackers and played music loudly in the green zone, which is home to around 100 species of birds and several dozen species of animals and amphibians.
"The NGT order can be implemented if there is political will. So, we have invited all councillors, including MP Mala Roy; MMiCs Debasish Kumar, Baiswanor Chatterjee and Ratan Dey; councillors Juhi Biswas, Paromita Chatterjee, Mamta Majumder, Annapurna Das, Bijlal Mukherjee, Sushanta Kumar Ghosh and Amit Singh to an awareness programme on September 20. We have requested them to bring along community-level representatives from their wards so that we can sensitise them," the official said.
KMDA held a meeting on September 6, when four councillors turned up. The agency hopes the attendance is better at the next meet. "We want the councillors' involvement in distribution of pamphlets at Puja pandals so that the message reaches a wider audience. If devotees still turn up at the Lake on Chhath day, we will have buses to send them to the alternative venues," the official added.
Latest Govt Job & Exam Updates: