timesofindia.indiatimes.com


KOLKATA: February: A 23-year-old law student collapsed during a football match in the city and by the time he was taken to hospital, he was dead.
March: Sudden
cardiac arrest
claimed the life of a 20-year-old budding cricketer, Sonu Yadav, in Kolkata.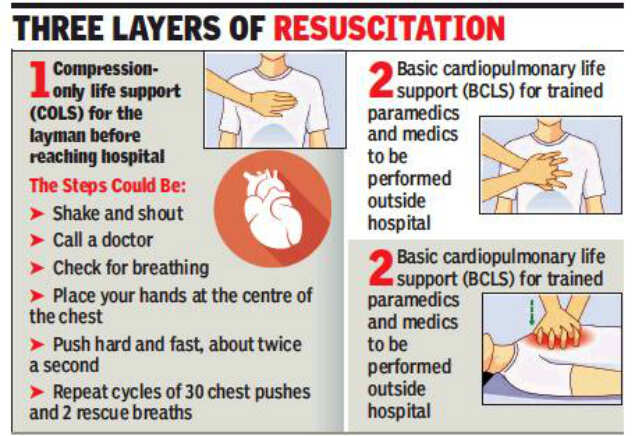 Doctors believe these deaths could have been averted if someone had conducted a CPR (cardiopulmonary resuscitation) on them immediately. "CPR plays a crucial role in saving a person suffering a sudden hear attack, which can strike anyone of any age and profile. It has to be administered within 10 minutes before the blood supply to the brain is cut off. So it is important even for a layman to know the technique," said S S Chakra Rao, chairman of Indian Resuscitation Council (IRC).
Rao was at Belle Vue Clinic on Saturday to give lessons on resuscitation. At the two-day workshop, doctors and nurses will be trained in CPR techniques, according to the Indian guideline. "It is usually too late by the time a cardiac arrest patient is brought to hospital. We need to teach more people the resuscitation technique to increase the pool so that they, in turn, can teach others," said Simantika Ghosh, a core team member of IRC.
According to experts, even a minute's delay reduces the patient's chance of survival by around 10%. The workshop started on Saturday with Syed Moied Ahmed of Aligarh Muslim University assessing the knowledge of participants. Sunday will see hands-on training of CPR steps.
"This is a good initiative. We conduct such trainings with cops and bus drivers/conductors as they are out on the roads and can help those suffering heart attack on road," said Pradip Tondon, CEO at Belle Vue Clinic.
ISC plans to hold training at educational institutes and voluntary groups so that the CPR technique can be taught to bigger ambit of society.
Latest Govt Job & Exam Updates: