timesofindia.indiatimes.com


KOLKATA: A Bidhannagar court on Friday sent a techie to jail for two years and fined him Rs 26,000 for allegedly threatening and extorting money from his former girlfriend, using social media. This is the first conviction in a case probed by the Bidhannagar Cyber Cell since its inception.
The accused, Jitender Singh Gerewal, had created five different fake profiles on Instagram and Facebook to carry out the crime. Both the convict and the complainant used to work in the same company for some time.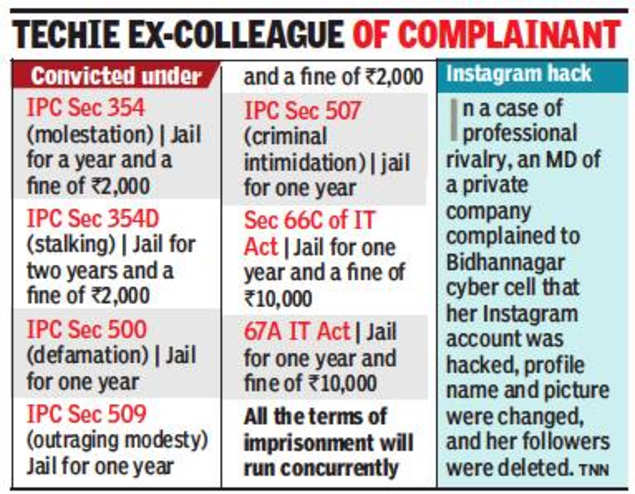 Bidit Mondal, OC, cyber cell, was the investigating officer. The charge sheet was filed in less than two months after the accused was nabbed after an 18-day probe.
According to Bivas Chatterjee, who represented the government in the trial for the past 15 months, on April 2, 2018, a complaint was lodged with the Bidhannagar cyber crime PS, stating that some objectionable photographs of the complainant had been uploaded onto some fake Facebook accounts.
During their relationship, the woman had been forced to appear in compromising positions over video calls. The accused used to record those videos and clicked screenshots. Later, when the complainant left the job, the accused started to threaten her with dire consequences as she refused to continue with the relationship.
Latest Govt Job & Exam Updates: