timesofindia.indiatimes.com


KOLKATA: A day after
Kolkata Traffic Police
said it would seek all help, including from parents and schools, to develop a database of pool cars operating in the city, some parents posted their grievances against pool cars on cop Facebook page. They posted photographs of "overcrowded pool cars," the most visible of all the aberrations, and also complained about the rickety condition of the vehicles.
A couple of them, including one Shweta Ghosh, posted on the
Kolkata Police Facebook
page seven photographs of such a school van, asking the men in uniform to intervene immediately. "Please sir…help me…do something," she wrote on the page. The photographs show girls jostling for space inside the car. Three students were found on the seats that can carry two. That is not all. A couple of senior girls are even seen sitting on the arm rest.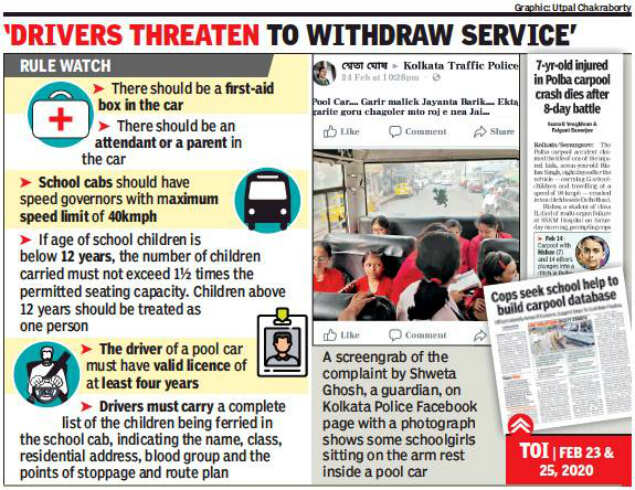 Many parents that TOI spoke to say these are only "minor" aberrations. "Most pool cars, nowadays are 14-seaters. But with guardians being allowed to travel, around 18-20 people are forced into the vehicle. At the start of the session, the pool car owners say the charges are meant for both guardians and students but within a few months they keep adding students saying the contract is only for the child. Worse, certain routes are assigned to one particular owner. Hence, even if we quit the pool car system, there is no guarantee we will get a replacement," said Bimal Kumar Mukhopadhay, a resident of Sarsuna whose son studies at a Behala school.
Some parents told TOI that the standard answer to any request is the threat to withdraw services. Sayantani Sen Chowdhury, mother of a Class-II student who avails pool car service to St James School, said, "This is unacceptable that despite several requests, the pool cars refuse to abide by the rules. My pool car doesn't have any GPS trackers attached to it. There is also no first-aid box and CCTV cameras. Despite our plea, they take no action. Also, without pool car it is not possible for us to drop the child to school every day from Shyampukur."
The cops said they have taken note of the complaints. "We will carry out our own probe and ask the owner to come to us if required," said a senior Lalbazar officer, adding that this aspect will be on their priority list when the actual crackdown begins after the board exams.
However, several cops at the various police stations and traffic guards that TOI spoke to said the infrastructural issues need direct intervention of transport department. "We will check how a particular vehicle, about which a parent has complained, has received a fitness certificate,"said an officer.
They cited two reasons why excess carrying is not easily detected — punctuality of such pool cars being of vital importance they are hardly stopped unless there is a specific complaint and such vehicles have to follow certain Supreme Court rulings which is not possible to check without the transport department joining the drive.
Latest Govt Job & Exam Updates: