timesofindia.indiatimes.com


KOLKATA: In Kolkata,
Viswakarma Puja
and kites are synonymous — the day the skyline appears in all hues. But taking lessons from the past two years, when some major
accidents
happened involving kite flying, Kolkata Police has appealed to citizens to follow a number of
safety measures
. The officers also carried out seizures of
illegal thread
and
banned kites
on and around
Maa flyover
on Tuesday.
TimesView
Kites are an important part of Viswakarma Puja festivities. But we also need to keep in mind that this does not become life-threatening. Sharp-edged strings and other forms of kite-flying that can prove dangerous to revellers or others (like bikers) must be eschewed. Let us stick to the dos and don'ts.
The cops also reached out to community members, asking them to stop youngsters from flying kites near flyovers and also telling bikers to be extra careful (like wearing helmets and at least use a scarf around the neck) on Wednesday. The officers from Tangra, Karaya and Topsia also promised some random checks on roads.
"We will confiscate any sharp-edged string that can physically harm someone. All shops around Maa flyover have been asked not to sell glass-coated strings and we are deploying our men at open areas that are located close to flyovers. But, more than anything else, we have carried out an extensive campaign on proper methods of kite-flying at schools," claimed an officer from south east division.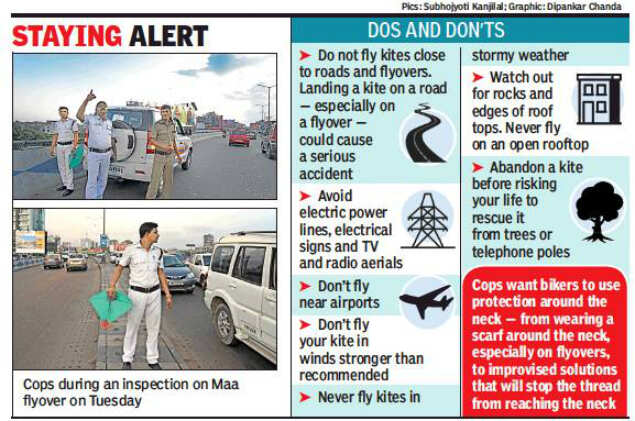 Perhaps, Kolkata Police can also take a leaf out of Ahmedabad police, a city that witnesses several kite-related accidents. The notification issued by the Ahmedabad city police chief earlier this year reads, "Any person cannot fly kite and cannot loot kite in such a way that it may endanger someone's life or harm someone's property in the jurisdiction of city. Any person cannot make provocative comments or screams between the same time. No one can make noise by playing loudspeakers and no one can make verbal spat during the same time period."
The kitemakers also insist on three golden rules. "Avoid all obstacles; besides the obvious risk of entanglement in trees, you should not fly near roads and moving vehicles. Two, avoid other kites and kite flyers. Finally, always be aware of your surroundings and others present," said a kiteseller.
Latest Govt Job & Exam Updates: