timesofindia.indiatimes.com


KOLKATA: A recent survey on Kolkata's street food has revealed that the hygiene associated with its making and delivery is not satisfactory. The study was conducted by
Kolkata Municipal Corporation
(KMC) and Foundation for Community Support & Development, an NGO supported by World Health Organization (WHO).
The survey that had started a year ago covered 104 streets and 2,000 street food vendors across Kolkata. A combined team of civic and NGO workers visited places such as BBD Bagh, Jawaharlal Nehru Road, Chowringhee, Park Street, Camac Street, Loudon Street, Russel Street, Rabindra Sadan, New Market, APC Roy Road, Aurobindo Sarani, Bhowanipore, Kalighat, S P Mukherjee Road, Rashbehari Avenue, Gariahat Road, Southern Avenue, Kidderpore, Jadavpur, Behala and Tollygunge to inspect preparation of food and the cleanliness associated with it.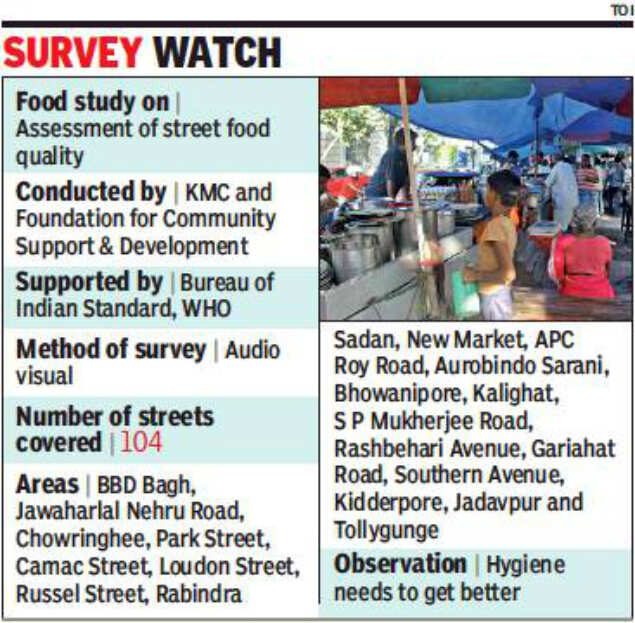 All vendors were graded into excellent, very good, good and fair categories depending on scores received based on 10 indicators. The survey found that as far as maintaining hygiene is concerned, number of excellent vendors was very low. While the survey team found a number of vendors were doing good, a significant number of vendors were still lagging behind in terms of hygiene.
According to the survey, a section of vendors, who were marked for poor performance, failed in ten broad-based indicators such as garbage management, personal hygiene like cleaning of hands, water management, cleaning of kiosks, reuse of disposable amenities, reuse of edible oil and safe food storage among others.
However, as prodded by Indira Chakraborty, public health expert, the survey team took up the issue of cleanliness with the street food vendors, who had failed to impress. A section of them later also started taking safety measures such as garbage segregation, garbage disposal, covering of hair, washing of hands (as and when required) and cleaning of water container.
State food safety commissioner Tapan Rudra said the results would encourage street food vendors to focus on hygiene of cooking or the delivery system. KCS Bisht , deputy director (eastern region) BIS, stressed on regular watch over the hygiene factor associated with street food especially quality of water being used to cook food. Deputy mayor Atin Ghosh said health department food inspectors would keep a close watch on the vendors.
Latest Govt Job & Exam Updates: