timesofindia.indiatimes.com


KOLKATA: Applications for obtaining birth certificates from the Kolkata Municipal Corporation offices have registered a 50% surge in the recent times, amid fears of being left out of the
NRC
list after CAA was notified. So much so that a section of the KMC health department employees in the borough level has been spendi ng extra hours at work, catering to the huge demand. But Kolkata
mayor Firhad Hakim
clearly stated that there was no need for panic as the chief minister had said the state government would not allow NRC to be implemented in Bengal and that no person here would be asked to leave.
Congress councillor Prakash Upadhyay and his Trinamool counterpart Ratna Sur on Saturday pointed out at the KMC monthly meeting how fear had led to an unprecedented rush for obtaining birth certificates and demanded that Hakim addressed the issue.
While Upadhyay wanted the mayor to come clear on the state government and civic body's official stand on NRC, Sur urged Hakim to allay the fears of citizens, who had been scrambling to get their documents ready for the NRC. Upadhyay complained that he was under pressure from a particular community in his ward to help them get identity-proof documents—be it birth certificates, ration cards or residential certificates. "People in large numbers approach me almost every day, expressing their fears about the NRC. These people are in search of either birth certificates, ration cards or certificates proving they are residents of the city, and so, India. They want me to clear the air about the NRC issue. How do I tell them that the issue is out of my bounds?" Upadhyay said on Saturday.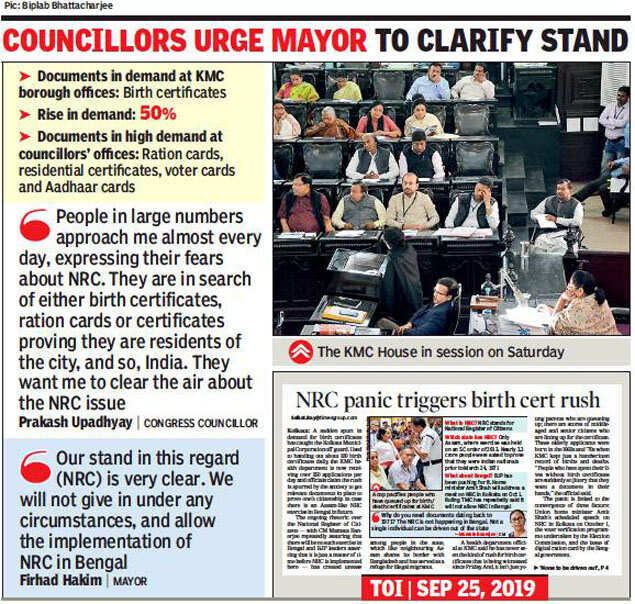 Sur also expressed helplessness that she was being approached by people in large numbers who were anxious about the NRC and wanted to get documents, like Aadhaar cards, voter cards, birth certificates and ration cards, to ensure they were not left out of the citizenship list.
Giving a patient hearing to the councillors' grievances, Hakim said there was no need for panic. "Our CM has categorically said that the state government won't allow NRC in Bengal. So, there is no need for citizens to panic. There is no power that can dislodge our citizens, on the pretext of implementing NRC," he said amid applause in the KMC House. Later, he told reporters the ruling party councillors were told to clear all doubts about NRC in their respective wards. "We have nothing to hide. So, the councillors must take the initiative to address the issue and spread awareness among residents of their respective wards about our stand on the NRC. No forces can compel us to implement NRC in Bengal," the mayor said.
Latest Govt Job & Exam Updates: