timesofindia.indiatimes.com


KOLKATA: After glitch-free dummy runs, it's time for trial runs with tailored glitches. On Friday,
East-West
Metro's ready-to-launch elevated section started another round of service trials. But this time, it will be a prolonged 10-day trial with "failure drills" to identify the system's preparedness against sudden malfunctions.
Truncated commissioning of Kolkata's Line 2, between Sector V and
Salt Lake Stadium
, is due. The 5km stretch has already undergone two rounds of service trials, usually conducted in the run-up to starting commercial services of a new Metro corridor.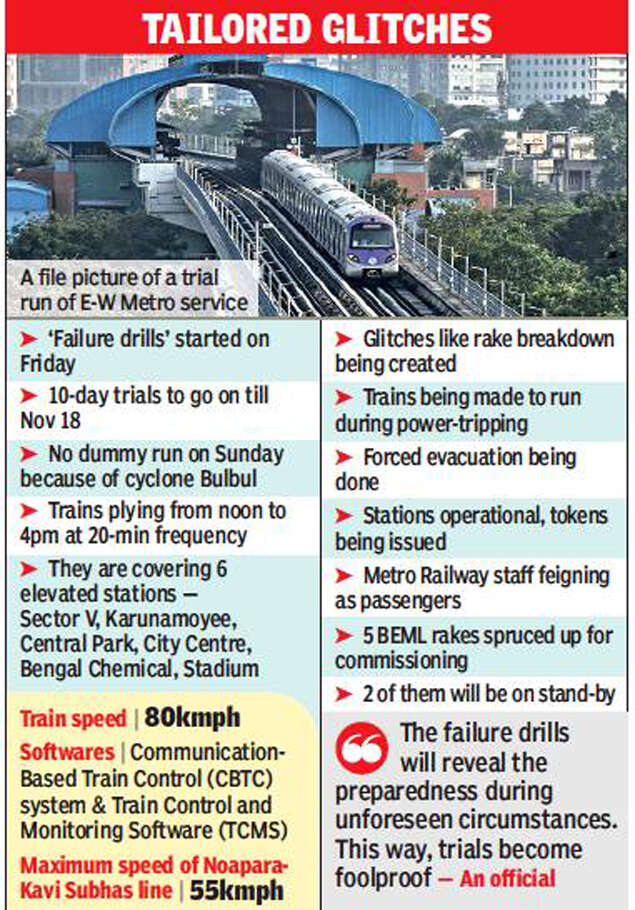 This time, the trials are "failure drills" — the trains are made to ply in circumstances like power-tripping. Sometimes, the rakes are disabled in the middle of a trip. The system's reaction to such "unforeseen" circumstances is being monitored to find out how platform screen gates (PSGs), public address system (PAS) and other special features of the East-West Metro react to such "emergencies".
An official said, "The section has gone through two rounds of service trials already. But they were done to check the system's functionality. Failure drills will reveal the preparedness during unforeseen situation. This way, the trials become foolproof."
The first set of service trials, held between October 15 and 17, focussed on situations like train doors not syncing with the platform screen gates (PSGs), an odd break or pause in the PAS or emergency brakes getting activated automatically. Another round of service trials (for two days) was held on October 30 and 31. On the second day, senior officials from various operation-related departments of Metro Railway took rides, checked the system and expressed satisfaction on the section's readiness. A formal nod was expected in the next few days. Instead, a third round of service trials was ordered on November 7 in a letter by principal chief operations manager's office.
The letter read: "As desired by general manager, trials are to be continued, documented and monitored in connection with commencement of revenue service in East-West Metro Corridor… KMRC officials should be associated with the trials and draw up the report accordingly. The defects may also be attended." Though the East-West Metro project is being implemented by Kolkata Metro Rail Corporation (KMRC), operations will be handled by Metro Railway, the organization that runs the north-south section or Kolkata's Line I.
Ever since E-W Metro has started trial runs on July 4, last year, KMRC engineers and Bengaluru-based BEML, manufacturers of the new line's state-of-the-art rakes, have been training Metro staff, who have joined the new corridor.
Latest Govt Job & Exam Updates: