timesofindia.indiatimes.com


KOLKATA: A substantial portion of sewage farms and agricultural land in the
East Kolkata Wetlands
has been converted into residential land, a committee constituted by the National Green Tribunal has submitted in its report.
The change seen between the 2002 satellite map of EKW and the 2016 map was "dramatic" and clearly demonstrated the massive extent of encroachment and conversion, which threatened the very existence of the Ramsar site, a member of the committee told TOI. "The report is so dismal that I fear Ramsar may even remove the internationally prestigious tag that EKW now enjoys," the official said.
TimesView
The damage has already been done and the best we can do now is to control it somehow. The question is whether we intend to do even this bare minimum damage-control. The impact of continual degradation of the local environment may be felt a few years from now but the harm may be catastrophic.
The East Kolkata Wetland Management Authority, custodian of the 125-square-km zone spread over 37 moujas situated to the east of the Eastern Metropolitan Bypass, has been struggling to resist the encroachment of salt marshes and meadows and sewage farms and settling ponds. It has, till date, filed more than 350 complaints and FIRs against violations under the EKW (C&M) Act, 2006.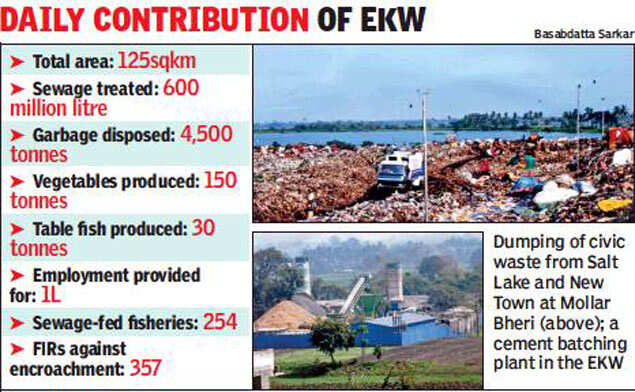 Some of the 37 moujas have witnessed encroachment on such a massive scale that barely look like wetlands now. Different shades of grey and brown – instead of the shades of green in the satellite map from 2002 – dominate Pashchim Chowbhaga, Nonadanga, Chowbhaga, Jagatipota, Mukundapur, Atghara, Kulberia, Beonta, Thakdari, Dhapa Manpur and Garai, indicating rampant construction after filling up and conversion of sewage-fed fish farms.
Set up a task force to tackle green rule violations in wetlands, suggests panel
The committee, alarmed by the disappearing wetlands after its designatation as a Ramsar site, has recommended that a task force be set up immediately to tackle cases of violation. It has also urged the National Green Tribunal to direct relevant agencies to intervene and impose suitable action and asked for the EKWMA's "deep intervention" to preserve and maintain the ecological balance of wetlands.
The report has noted that the dumping of solid municipal waste in Mollar Bheri by the Bidhannagar Municipal Corporation has continued unabated; it has spilled on to adjoining areas and caused the toxic leachate to flow directly into the EKW.
A Bidhannagar Municipal Corporation official acknowledged the spillage in the dump yard and said it had sought more time on the matter from NGT. "We will give our affidavit to NGT at the next hearing on November 25," said MMiC (waste management) Debashis Jana.
Plastic recycling and leather-shaving burning units that have set up shop along the Basanti Highway in the EKW area continue to operate without permission and pollute the environment, not just in the EKWMA but the rest of the city as well.
Environmentalist Subhas Datta, whose petition to the NGT in April 2019 led to the formation of the committee, said the report was cause for "extreme alarm" and the developments could sound the death knell for Kolkata as EKW naturally treated the city's sewage and produced a significant portion of fish and vegetables consumed in Kolkata.
"Not only the 1lakh people, who live off the EKW, but the entire city of Kolkata is dependent on it. There has been no attempt to restore even a single encroached bheri despite massive conversion over the years. The BMC was fined Rs 10 lakh for not adhering to orders on containing the spill at Mollar Bheri. But it has done nothing and faces another penalty of Rs 15 lakh," Datta said.
Former state pollution control board law officer Biswajit Mukherjee, who had ordered the demolition of two housing projects and an automobile service centre that had come up in EKW (the orders were upheld by Calcutta High Court and the Supreme Court), said: "There are bridges and roads being built and flyovers being planned, citing infrastructure improvement. What they are actually doing is paving the way for the construction machinery to roll into EKW and wipe it off. It will be disastrous for the entire city if the wetland goes."
Latest Govt Job & Exam Updates: