timesofindia.indiatimes.com


KOLKATA: Sushmita Das (name changed) did not go to university on Friday fearing a backlash.
Dipanjan Dasgupta's mother told him to be careful and stay away from trouble when he was leaving for university in the morning.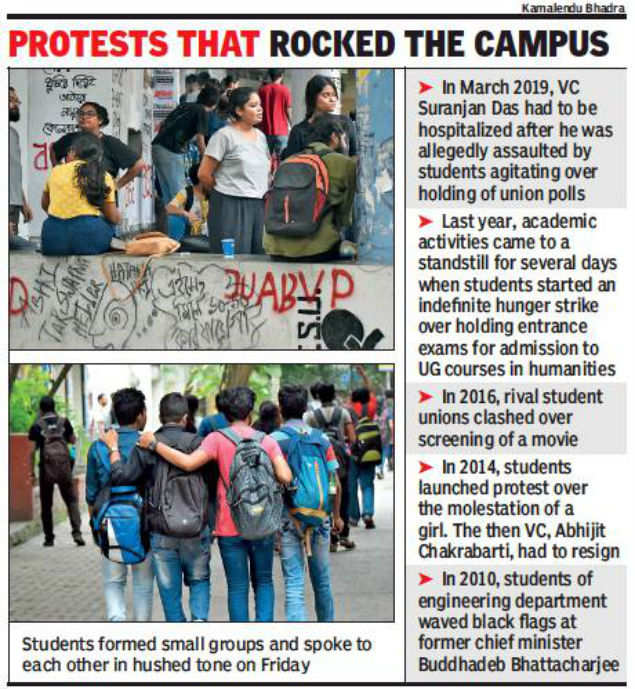 Visuals of Thursday's vandalism after a section of students allegedly heckled Union minister Babul Supriyo and subsequent vandalism by ABVP members have triggered anxiety and fear among the students of Jadavpur University and raised safety concerns among their parents.
Several students skipped their classes on Friday while others were under strict instruction from their parents to leave the campus if they sense trouble brewing. Many students received frequent calls from home asking if they were safe.
"There is evidence that such issues in JU never get resolved in a day. They are always followed by protests, rallies, dharnas and sometimes even violence. I decided to stay away anticipating a backlash," said Sushmita Das, a third-year English student.
Debangana Roy panicked after seeing three missed calls from her mother. She could not attend her calls as she was in class. "She sounded worried when I called her back and asked me if I was fine. Before I left home in the morning, she told me to either call her or text her at regular intervals to inform I was fine," said Roy, a first-year student.
Violence on campuses have always been a cause of concern not only for the administration but also the parents. "I was scared when I saw on television how students were clashing and the mindless violence that followed. Anybody could have got injured in the chaos. I have told my son to stay away from trouble and leave the campus if there is any trouble," said the mother of a student who has just taken admission in the history department.
On Friday, tension was palpable on the campus. Students formed small groups and spoke to each other in hushed tone. "There is an impression that everybody in JU is involved in political activities but there are students who do not owe allegiance to any political outfit. We come here to study, and such incidents not only make us anxious and scared but also affect our studies," said Shreyanka Ghosh, a third-year student.
Latest Govt Job & Exam Updates: