timesofindia.indiatimes.com


BARASAT: State CID additional director-general Rajeev Kumar's first attempts to get anticipatory bail hit a wall on Tuesday when two Barasat courts one after the other cited jurisdiction issues to turn down his plea.
Complicating matters for Kumar was the
CBI
submission in the same courts that it wanted Kumar's "custodial interrogation". Tuesday was also the first day the CBI moved court for non-bailable arrest warrants against the former commissioner of police of Kolkata and Bidhannagar.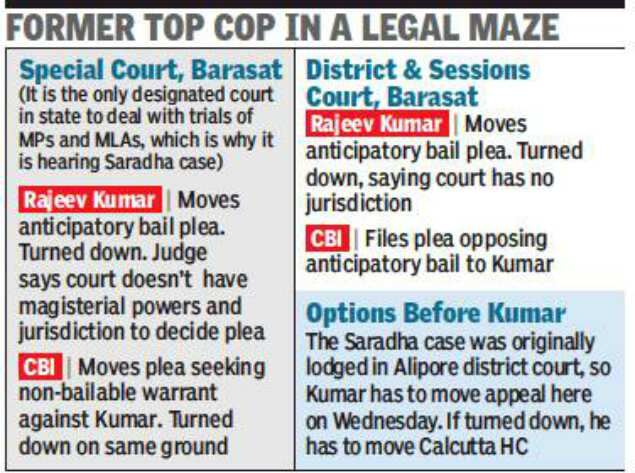 Kumar moved his anticipatory bail plea first before the special court hearing the Saradha matter. (This is now the only designated court in Bengal for trial of MPs and MLAs after the Saradha case's shift from an Alipore court.) Judge Sanjib Daruka declined to hear the matter, prompting Kumar's lawyers to immediately take their plea to Barasat district and sessions judge Shabbar Rashidi's court, who agreed to hear the matter in the post-lunch session.
Judge Rashidi, too, disposed of Kumar's plea for anticipatory bail, calling it "non-maintainable" as the court had no jurisdiction to decide the matter. The order came at 6.15pm and left Kumar with no choice but to submit the same plea again before the Alipore district judge on Wednesday.
The CBI's legal moves replicated Kumar's. The agency's counsel first approached judge Daruka for non-bailable arrest warrants against Kumar. Daruka's response to CBI, too, was similar to his response to Kum-ar's team: it did not have requisite magisterial powers and could not issue a non-bailable warrant against an accused.
Judge Daruka reasoned that he did not have special powers conferred by the legislature (unlike special NDPS or POCSO courts). "Even if I give you the permission (for a non-bailable warrant), this court does not have the jurisdiction to grant custody of any accused," the judge said.
Kumar's lawyer, Gopal Haldar, began arguments in district and sessions judge Rashidi's courtroom by saying the police officer had been cooperating with the central agency and had only sought time for pressing personal reasons. "The CBI has arrested people after sending them notices under Section 160 of the Criminal Procedure Code to appear as witnesses. Even four days back, it sent a notice to Kumar (the Friday notice to appear at the CBI office at 10 a.m. on Saturday) asking him to appear as a witness in the case. What prompted them to change their mind suddenly and seek his arrest today?" he asked.
Haldar argued that the CBI had never named Kumar as an accused in any of the Saradha charge sheets (one initial charge sheet and six supplementary charge sheets) but, despite that, the CBI suddenly reached his residence on February 3 this year to question him. "They even issued a look-out circular against him. The CBI also sent a notice under Section 160 CrPC on September 13 even before the detailed Calcutta High Court order," he argued.
CBI lawyer Kali Charan Mishra, opposing this, said: "Kumar's argument of personal liberty is pitted against the larger interest of thousands of investors who have lost their money in the Saradha scam. The court must decide on that. Moreover, he has been evading interrogation and not cooperating with the central probe agency. So the CBI requires custodial interrogation."
"The Special Investigation Team, of which Kumar was a part, did not provide call records. Neither did it cooperate when the Enforcement Directorate wanted to open a bank locker at Salt Lake. Witnesses were intimidated. Custodial interrogation is required for the larger good of society," he said.
The CBI claims Kumar has been elusive since September 13 but officers close to Kumar insist that he is at his 34 Park Street residence.
Latest Govt Job & Exam Updates: