timesofindia.indiatimes.com


KOLKATA: Keeping in mind the suggestions of the
West Bengal
Biodiversity Board, the Housing Infrastructure Development Corporation (
Hidco
) has declared the area around
Eco Park
in New Town a
no-honking
zone.
The authorities have put up no-honking boards on the service lanes and the main road surrounding the park, urging motorists not to blow horns. The move has been taken as a measure to protect the
biodiversity
and most importantly, the various species of birds found in the area.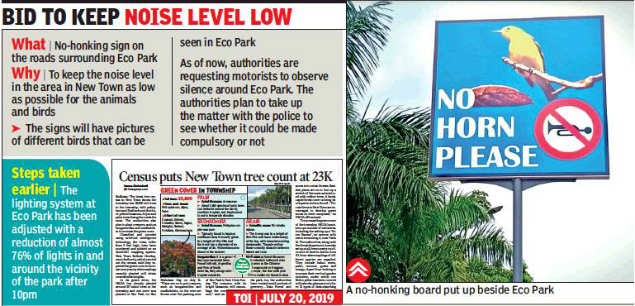 The authorities had earlier adjusted the lighting system of Eco Park with a reduction of almost 76% of lights in and around the park after 10pm.
"We are appealing to motorists to observe the surroundings of Eco Park as a 'No-Horn' zone. Some creative no-honking signages have been put up at certain points. The signs display pictures of different birds that are found in the park," said a Hidco official.
"Apart from switching off lights after dark, the bio-diversity board had also recommended to keep the noise level around the park as low as possible as different animal and bird species found there are averse to honking noise," the official added.
Officials said the no-honking issue have not been made compulsory as of now, but the authorities plan to take up the matter with the traffic police authorities soon.
The initiatives taken up by Hidco authorities are based on the bio-diversity board report, which was released a few months back, mentioning that Eco Park has a rich variety of bio-diversity, including 57 species of birds that have been sighted.
Keeping lights off as much as possible and observing silence by not blowing horns will help keep the bird population in the area intact," said an official.
Latest Govt Job & Exam Updates: